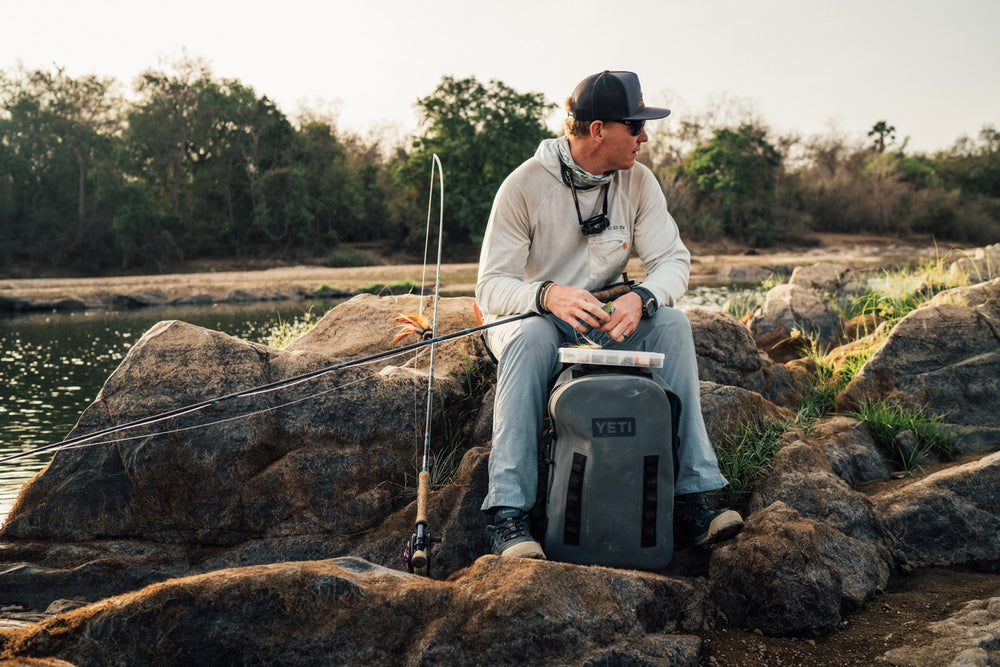 By: Jako Lucas
Traveling to some of the most amazing places in the world has enabled me to test any product I use to the maximum of its ability. With the amount of traveling it takes to reach some of these, often remote, places it is of the utmost importance to make sure that you are as comfortable and protected as possible. 
Therefore, as a professional guide and international fly fisherman, I am very selective and proud to represent companies that I can truly rely on, not only in the field, but at home as well. They are truly the best of the best, and the one thing that I really appreciate about all of them is that they always ask and seem to value my honest feedback on all of the products that I use. I am really fortunate to have these amazing brands support me and having them really look after all of my needs, is just an honor. 
Sunglasses
This could possibly be one of the most important pieces of equipment you can never go without. We have only one set of eyes and we have to look after them. 90% of my guiding and fishing is sight fishing. Whether I am just walking outside at home, driving or fishing, I always have a pair of Costa shades on! My Costa's are a good shape for my face, which means it does not allow light to come in from the sides allowing me to better sight fish, drive, etc. I do prefer to use green mirror, amber lenses most of the time. It is good for all kinds of light conditions if you only want to get one pair.

SPF Performance Clothing
Fishing has a lot to do with confidence and when you are not wearing the right gear it will hinder your experience and you might sustain an injury, as well as having wasted a lot of time and energy getting to these locations only to get there and be uncomfortable etc. Protecting our skin against harmful UV rays, UV protection has also become the go to element in fishing clothing. Because we are spending most of our time on a fishing trip in and around water, it is also very important that the clothing is able to dry quickly. Dagon Apparel is designed by people like myself who are on location, and this means the clothing and accessories are tried and tested – and only the best is put through to be used by us.  
Liquid/Hydration
Whether you are fishing in icy cold conditioning or in particular tropical conditions, it is always extremely important to remember to stay hydrated. I have seen it countless times, when clients get fish fever and forget about doing anything else. Heck it has even happened to me. This usually happens on the first day of a trip. If you get dehydrated or sun stroke, you will end up missing a day or more of fishing on your trip. Rehydrate or an Electrolyte drink is always something that comes in handy. With all the traveling and fishing it is always easy to forget to hydrate. It is very easy to get some good outdoor products for a company like MTN Ops, to make sure you get your electrolytes and any other tips of energy sources needed.  
Waterproof Bag
As a guide, videographer and photographer, this is something I can also not go without especially, when I am guiding and fishing. I always have a bunch of camera gear with me when I am on the water and I have also lost many cameras due to non-waterproof bags. Yeti's Panga 28 Back Pack is the ultimate. And it is made from super durable material. I have even used this bag to swim across channels in the Seychelles. The best thing about the bag is you can double back it as your traveling carry-on luggage to hold your laptop and the rest of your carry-on items, and of course to keep everything dry.
Chocolates & Beef Jerky/Biltong 
Everyone that knows me, has guided or fished with me, knows that I love chocolates and beef jerky/Biltong. So here is a suggestion from me, whether you like it or not always take it on a trip with you. There have been countless times where I have traveled to a destination, and end up sharing my last ration, because no one else brought any of these delicious treats. It ranks right up there with the age old… taking your wife/girlfriend out to dinner, she orders a salad yet she keeps leaning over and nibbling most of your fries, it is just not cool. Therefore, it is best to always take a little bit extra and then everyone can share without that feeling of ninja chopping someone's fingers off your stash! It will also help when you travel all over the world, I have seen so many clients that don't eat much on location because they are not used to the local cuisine.